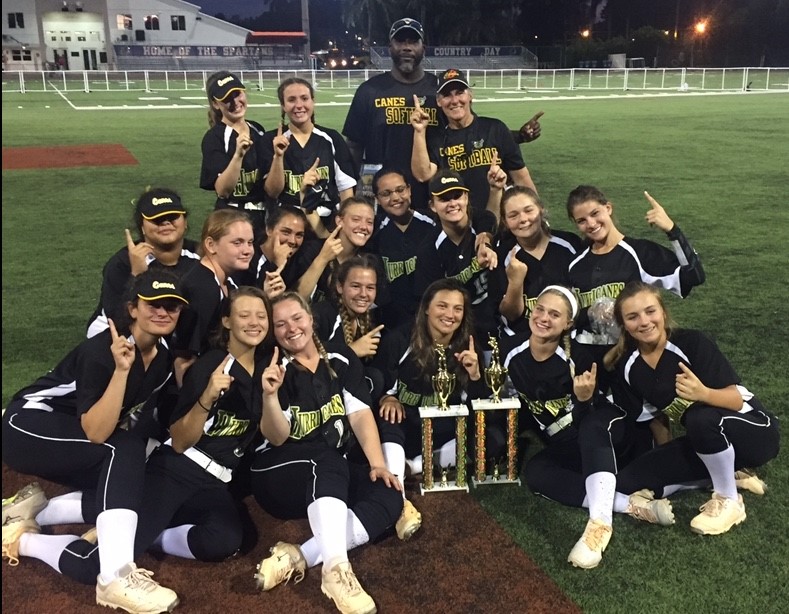 The Coral Shores softball team completed "a season for the ages" by defeating Colonial Christian 13-3 Wednesday evening in the South Florida Championship game played at Miami Country Day School. The Canes' — who had previously won the "regular season" SFC championship–finished the season 17-1, with a perfect 9-0 conference record.
Coach Lesa Bonee—Unanimous selection as Conference Coach of the Year, Pictures with her assistant, Kevin Williams
Anna Langley—South Florida Conference-Most Valuable Player; Championship Game, MVP; Conference All- Academic Selection; 1st Team All-Conference…. and she hit a 2-run, walk-off home run to end the game. The ball cleared the right-center field fence by some 40 feet. Needless to say, a storybook ending for an outstanding career.
Four Canes made FIRST TEAM All-Conference—Anna Langley, Atlantis Hofstetter, Keeley Flanigan, and Maddie Langley
Two Canes were selected to the SECOND TEAM: Lexi Brito and Jenna Jones
Two Canes were picked on the THIRD TEAM: Dallas Christmas and Emma Lovell
Five senior standouts: Atlantis Hofstetter, Anna Langley, Keeley Flanigan, Dallas Christmas and Rachel Medina
Jenna Jones helping Anna Langley with some of her hardware