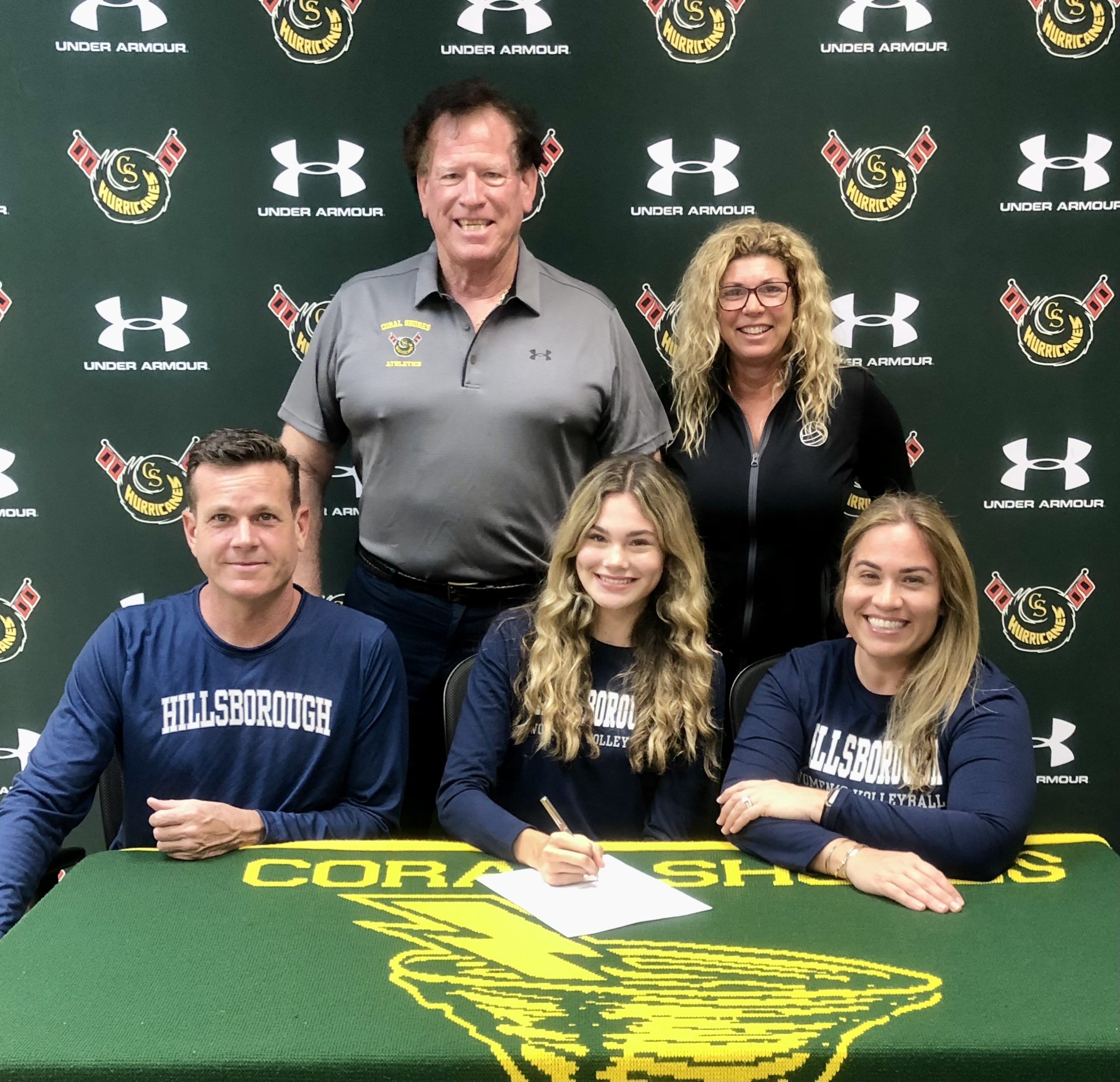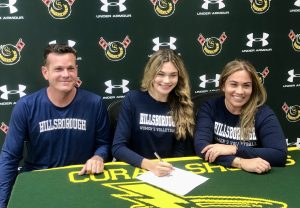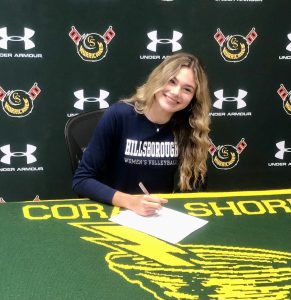 MEYERS SIGN V-BALL SCHOLARSHIP WITH HILLSBOROUGH
CSHS Star Meyers Signs Volleyball Scholarship
With Hillsborough Community College
Zoe Meyers, the Monroe County Player of the Year in Volleyball, has decided to continue her career at Hillsborough Community College in Tampa.  The Coral Shores senior shared, "I chose Hillsborough Community College because upon my visit to the school I realized it is a successful program.  The coaches and players were extremely welcoming and I am certain that I will improve as a player with their guidance and training. I am grateful for this experience and am looking forward to joining the team to play at a higher level."
Other Quotes from Meyers
I started playing volleyball in the sixth grade and have loved the sport since then.  My volleyball career started at Island Christian School and continued when I transferred to Coral Shore High school, where I played on the Junior and Varsity teams. Coach Kathy Ets-Hokin encouraged me to join the Miami Elite Volleyball club where I gained new skills and traveled throughout the United States playing against incredible opponents. 
I would like to thank all of my Coral Shores High school coaches; Kathy Ets-Hokin, Autumn Hager, and Erin Kirkland for supporting me through every season.  I am fortunate to have been able to excel with their guidance and support.  I would also like to thank my parents for allowing me to pursue these amazing volleyball adventures.
Finally, I would like to thank Coach Sandra Mora from Miami Elite for recommending me to the Hillsborough Community College team. Without her, my commitment to the school would not have been possible. I am ready to show what a Lady Cane does on the court! 
Quotes for Head Coach: Kathy Ets-Hokin
I am so happy with her decision to commit to Hillsborough College. She has worked so hard to get to this point. Zoe has grown and improved so much since her freshman year. She earned her spot on the court and was the game changer. Zoe was an exciting athlete to watch play at the net. She will be a great asset to the college team. Zoe is full of positivity, energy, competitiveness, and dedication. I wish her the best in playing at the next level.
Quote from Athletic Director: Rich Russell
I'm super excited for Zoe.  I've had the privilege of watching her play and mature since her early days at Island Christian School.  The fact that she was selected the top player in Monroe County speaks for itself, but I'm even more thrilled by the way she has blossomed into such a wonderful young lady.  
I also want to recognize Coach (Kathy) Ets-Hokin for her tireless efforts.  Zoe and Kate (Johnson) both earned college scholarships but EVERY player on her team will enjoy enduring benefits from the discipline, commitment, work-ethic, and goal orientation she promoted on a daily basis.