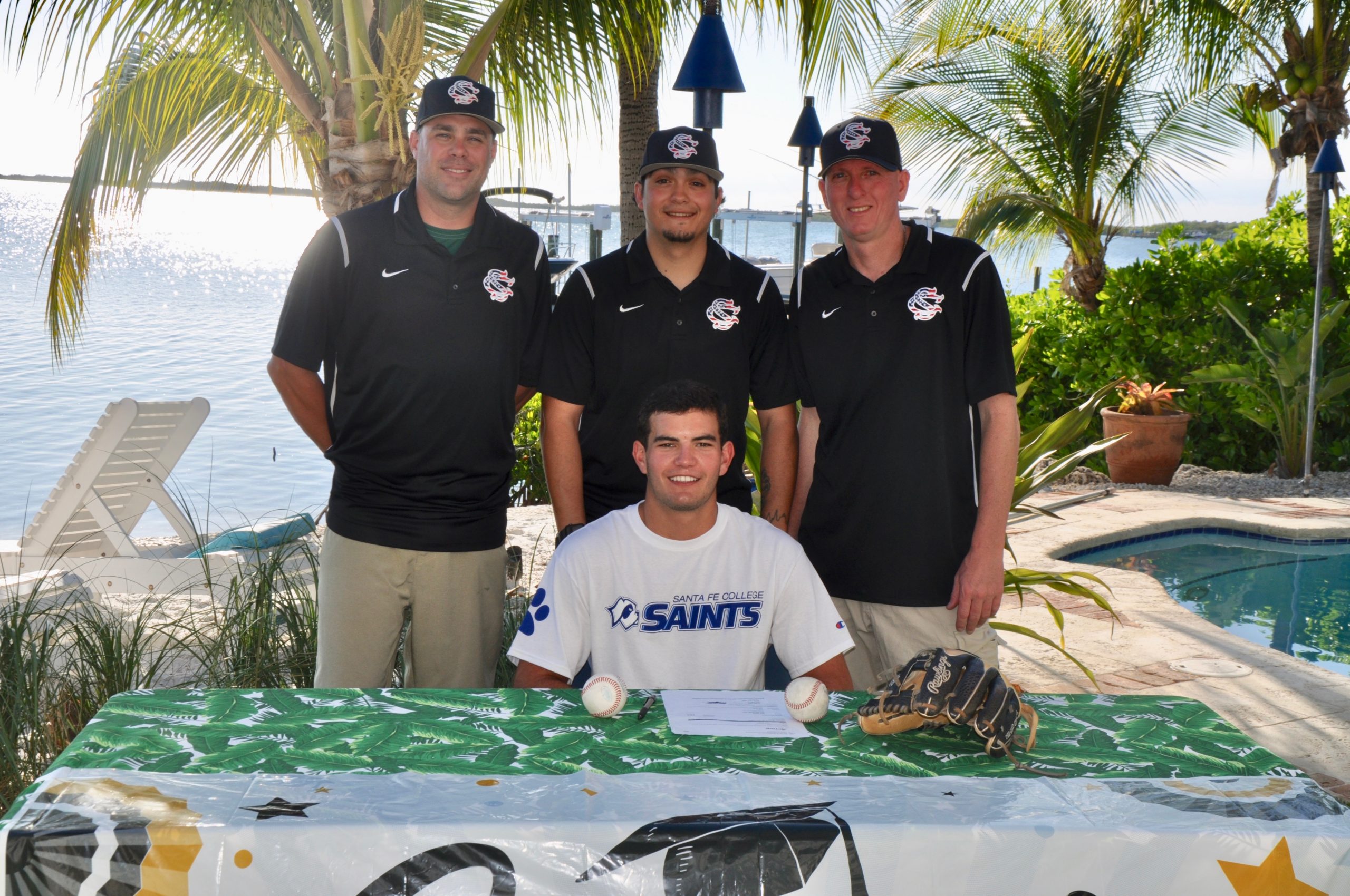 Dillon Walters, who has spent the past four years in starring roles for Coral Shores' baseball program, has inked his national letter of intent and will continue his baseball career at Santa Fe College in Gainesville (Fl).  The slugging short-stop/pitcher fielded several offers before accepting a scholarship with The Saints.  There has been some speculation that Walters could be selected in the Major League Baseball draft scheduled for June 10, but he and his family have indicated they are fully committed to his next step being college.
"I am very excited to continue my academic and baseball career at Santa Fe College as this program has a history of winning and I plan to help continue that tradition"—Dillon Walters

"I want to thank all the coaches I've had over the years; each has played a role in me fulfilling this dream.  I also want to say a special "thank you" to my parents who have supported me every step of the way.  They have literally traveled with me across the United States."—Dillon Walters

"Dillon is a very hard working young man and Santa Fe College is getting one of the best kids I have every coached both on and off the baseball field.  Keep it simple Dillon and you will go as far as your heart desires"—Fabian Placencia (Head Baseball Coach—Coral Shores)  

"I have had the pleasure to coach and watch Dillon evolve into a respectful young man over the last 10 years. From his first Home Run in Cooperstown, to signing on with his number one targeted school, Santa Fe College, I am not surprised … I am very proud of you kid." – Coach Tiedo (Brian Tiedemann—Associate Head Baseball Coach—Coral Shores)

"We had followed Dillon closely and really liked him but had been told he was committed to Palm Beach Atlantic University.  I got a call for a Santa Fe baseball alumni, Josh Corr.  Josh played his high school ball at Coral Shores and a couple of his former teammates are coaching there now.  He said that Dillon was still opened to coming to Santa Fe.  We offered him and he accepted.  We're excited about his prospects and how he can help us here at Santa Fe."—Johnny Wiggs-Head Baseball Coach at Santa Fe

"I have been fortunate to be a part of Dillon's baseball as a father, coach and now a member of a very large family of baseball players, parents and coaches.  It excited me greatly to know Santa Fe is gaining not only a wonderful young man but a great utility player that pitches as well.  I look forward to Dillon's success both on the diamond and in college as he begins his new endeavor"—Mike Walters (father) 

"We are blessed to have a child who has a passion for the sport of baseball that is much larger than himself"—Gloria Walters (mother)
About Dillon Walters
Dillon was born and raised in the Florida Keys.  Dillon loved all sports growing up but his passion was always baseball with fishing being a close second.  Dillon has 3 older siblings, Michaela, Rachel and Sean, all of whom graduated from Coral Shores and the University of Florida. 
Over the past few years, Dillon has achieved many dreams he had for baseball by traveling with competitive teams from Southern California and throughout Florida. He represented the S. FL region at USA Baseball and became a finalist for the NTIS Olympic team.  He was invited by UVA  to play in the Dominican Republic with former and current MLB players. He accepted that offer and represented the USA in games last summer.  He and his teammates also volunteered for community service while in the Dominican.  
Dillon played in Perfect Game's Top Prospect games in which his performance ranked him a grade of 9 out of 10.  He then was invited to the elite PG World Showcase in January 2020 where only 90 elite players in the world attended. Dillon was graded as a "top 10 MLB draft pick and the highest level college prospect".  Dillon has been followed by the San Diego Padres, LA Angels and the Tampa Bay Rays.  Several Florida colleges tracked Dillon in the past few years however Dillon's dream had always been to play for Santa Fe College.  It was during a JUCO tournament in December 2019, Coach Wiggs invited him for an official visit in January.  Soon after that Dillon received an athletic scholarship, committed and signed to play baseball at Santa Fe College and pursue a business degree.